Discipleship series

to help you grow deeper as a disciple of Christ
Growing believers

into disciples
Turning disciples

into disciple-makers
Ideal for small groups

A discipleship pathway for all ages and stages
Revival series

Ignite your passion for God
Discipleship series
to help you grow deeper as a disciple of Christ
Growing believers
into disciples
Turning disciples
into disciple-makers
Ideal for small groups
A discipleship pathway for all ages and stages
Revival series
Ignite your passion for God
Welcome to Omega Discipleship Ministries!
Jesus is the Alpha and Omega. Many have come to Christ and started the journey of faith. But Omega Discipleship Ministries is designed to go on from there and help grow believers into mature disciples of Jesus Christ through intentional discipleship training. Becoming a believer is just the start. Becoming a disciple and growing to spiritual maturity is all the rest.
Here you will find powerful discipleship resources that provide a clear discipleship pathway designed to bring transformation and spiritual growth. They are for believers of all ages and stages, young as well as old, and ideal for small group use. Turn your small group ministries into powerful discipleship training centers.
An exciting Cyclical Training Series . . .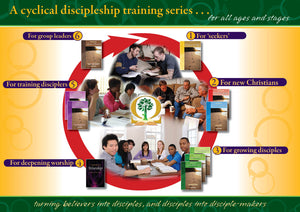 This cyclical discipleship pathway is designed for all stages of spiritual growth - for 'seekers', new Christians, older Christians, right through to mature believers – with training manuals suited to each stage. The cycle is designed to keep you going and growing from where you are now - turning 'seekers' into believers, believers into disciples, and disciples into disciple-makers.
Testimonials
I am so thankful I found your ministry on the internet. Your materials on discipleship are "THE BEST"

Pastor R. David Reynolds Central United Methodist Church, Decatur, Illinois USA
It is exciting to see students maturing in Christ. Thank you for this much needed material!

Rev. Kevin L. Norton, Hibbing Alliance Church, Minnesota
The good thing with Omega, is you can do a short course or the whole lot back to back. I highly recommend it.

Pastor Matt Prater, New Hope Church, Brisbane.