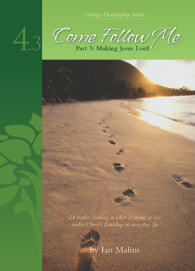 Come follow Me
Part 3: 'Living under Christ's Lordship' (13 studies)
This third book in the 'Come follow Me' part of the cycle looks at the dangers we face as disciples and how to be prepared; spiritual warfare and how to wear the amour of God; how to live under Christ's Lordship in personal life, family life, and in daily work; and living the Spirit-filled life and what that means. A challenging, inspiring and practical final book in the 'Come follow Me' series.
In work-book format with questions following each study making it ideal for personal and small group use. 
DVD
Accompanying DVD series goes with each study, with 'Guidelines for Group leaders', General Introduction to each Part, and 10 minute introductions by the author to each study for use in your group meeting.