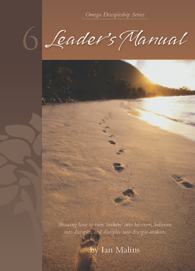 Leader's Manual - 'Making Disciples'
This book is an essential handbook for church pastors and small group leaders on the 'how-to' of disciple-making. It gives the big picture of our central calling in the Great Commission to 'make disciples' and what that means. Presenting the urgent need of our churches, it shows how to be intentional in disciple-making, how to train disciple-makers, and how to implement the Omega discipleship cyclical series as a discipleship pathway to turn 'seekers' into believers, believers into disciples, and disciples into disciple-makers.
This book will inspire and encourage you to be intentional in disciple-making at whatever level - on a one to one basis, or a small group level - making discipleship training the hub and core of your church's ministry. It also gives you the tools to use showing you how to use each book in the Omega discipleship series to achieve that purpose.
This is an essential training manual in disciple-making that every pastor, church leader and small group leader should have and use.