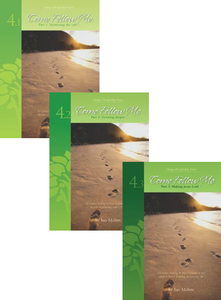 'Come Follow Me' - is an exciting training series in discipleship for growing disciples that will leave a lasting impact on all who study its pages. In 3 parts it will take you on a journey of transformation and change.
Designed to help move you out of spiritual dormancy or stagnation into a growing phase and on towards spiritual maturity.
With practical questions, projects and memory verses to help you build these principles into your life.
Not just for new Christians but for older Christians as well. Christians of more than 20 years have said, 'This series has changed my life'.
Part 1: 'Answering the call' (10 studies). Looking at the call to discipleship and what it will cost to be a true disciple of Jesus. 
Part 2: 'Growing Deeper' (13 studies). Looking at the essential keys to spiritual growth - the Holy Spirit, Bible, prayer, worship, hearing from God, fellowship, service and witness.
Part 3: 'Making Jesus Lord' (13 studies). Looking at an understanding of spiritual warfare, Christ's Lordship in everyday life, and how to live the Spirit-filled life.