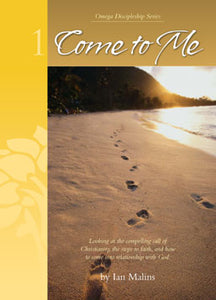 'Come to Me'
A beautifully presented 55-page book in full color explaining the unique message of Christianity in a clear and inviting way;
7 short chapters presenting the compelling call of Christianity, the steps to faith, and how to come into relationship with God;
A valuable evangelistic tool to share with non-Christian friends and 'seekers'
Special features:
7 challenging chapters

 covering the topics:

What we have lost
Is there a God?
What is God like?
Is religion the answer?
Now the Good News!
The call to surrender
Becoming a child of God
Each chapter followed by 'Explore Further' sections with probing personal questions for deeper thought and for group use;
With special feature articles which amplify and deal with specific issues:
The Bangkok Hilton story

How could you be an atheist?
What's so special about the Bible?
Do all religions lead to God?
Interspersed with special Quotes and Poems that make the call to believe even more powerful and compelling.
All in full color with beautiful color images throughout, making the book very attractive and appealing . . .
New edition (55 pages).