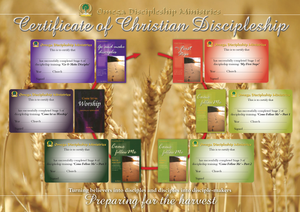 This beautifully presented 'Certificate of Christian Discipleship' (actual size 225 x 330 mm) is for church groups to use as a visible way of encouraging people to complete the training cycle and which gives official church recognition for each part of the cycle completed.
The certificate comes with a full set of self-adhesive seals or labels that are progressively affixed to the main Certificate alongside each book as people complete each part of the cycle. This is a way of encouraging a person to keep on going and growing right around the cycle.
Each church can set its own standards as to what is required for a person to receive a certificate or seal of completion, but we recommend an official register be kept by the group leader which records three things each week - attendance, quoting of memory verse, completion of the study (or project) in advance of the group meeting. We would then suggest a 75 - 80% combined result as the minimum requirement for an award to be given. This thereby gives the training completed official status and recognition on top of the great personal value these courses provide.
Comes as a pack of 6 individual certificates with set of individual book seals.