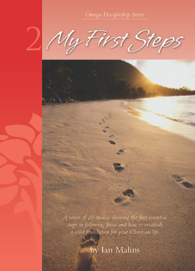 My First Steps
This is a very popular and widely used discipleship book for those who want to disciple others and establish a solid foundation for their Christian lives. It is designed for new Christians and also those Christians who have never been properly discipled in the foundations of the faith. The first study summarizes the first essential step to Christ to make sure the primary commitment to Christ is clear and solid. Then the next 14 studies go on to look at the other essential steps needed to grow spiritually and establish a strong relationship with Christ.
In work-book format with questions following each study making it ideal for personal and small group use. 
DVD
A 2-DVD series accompanies the 'My First Steps' book - with Guidelines for group leaders, a general Introduction to the series (to play at your first meeting), and 10-minute introductions to each study. A valuable aid bringing extra enrichment to the series, helping focus the topic and get your group started each week.